Wireless Side View Rigid Borescope Inspection Camera
Wireless Side View Rigid Video Borescope Inspection Camera
(Please click 'Download' for downloading the PDF brochure & English Manual of this camera)
This is a side view rigid inspection camera that is specially designed for cavity wall inspection, wall tie and dry rot inspection, inspection of spaces under floors, above ceilings and behind panels and ducts, and many more where a rigid side view endoscope is required.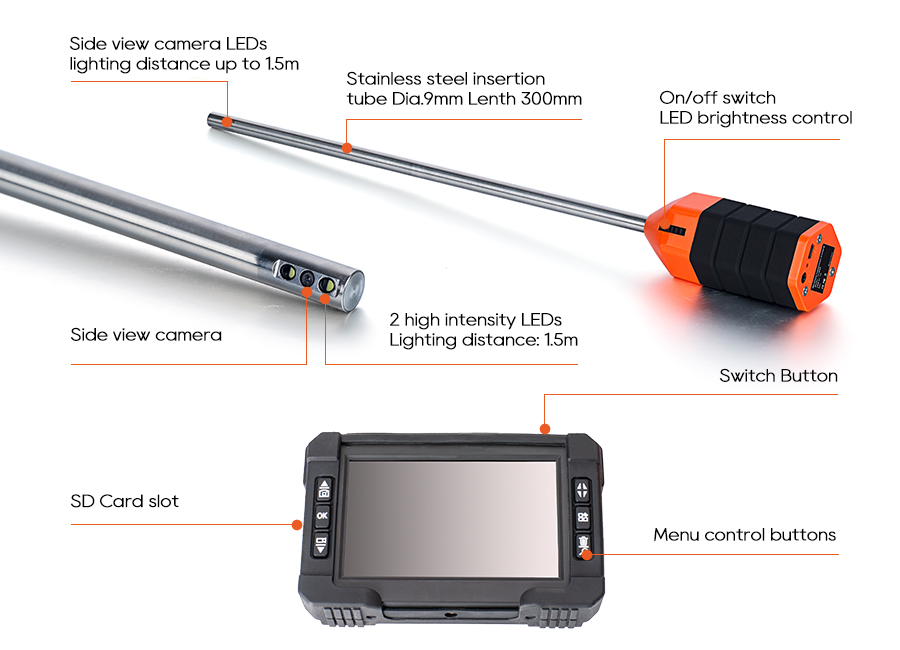 Features:
> 2.4Ghz wireless transmission between camera and monitor
> Mini stainless steel insertion tube, dia.: 9mm
> Tube length 300mm
> Side view camera head, 380TVL
> 2 high intensity LEDs on camera head, providing light up to 1.5 meters
> Video out function
> 5" TFT-LCD wireless monitor with SD card recording (Max. SD card: 32GB)
> Waterproof level: IP67 (camera tube only)
> Built-in Rechargeable Li-battey for both camera and monitor
> Multi-language support
What's included?
- 1 x camera probe
- 1 x monitor
- 1 x USB cable
- 1 x video out cable
- 1 x magnet stand for monitor
- 1 x power adapter for monitor
- 1 x power adapter for camera
- 1 x manual
- 1 x Aluminum Case
Specifications:
Camera
> Image sensor:CMOS
> Diam. of Insertion Tube:9mm
> Insertion Tube Length:300mm
> Overall Length:400mm
> Tube Material:Stainless Steel
> Light Source:2 high intensity LEDs for 1.5m lighting distance
> Effective Pixels:768 x 494(NTSC) / 752 x 582(PAL)
> Mains Battery Charger:Yes
> Depth of Field (DOF):6cm-infinite
> Field of View (FOV):55°
> Water Proof:IP67 (Probe only)
> Operation Temperature:-10oC ~ 60oC
> Battery capacity:1500mAh
> Work Time:4 hours
> Charge time:5 hours
Monitor
- Screen Size:5" TFT-LCD
- Display Resolution:320(R.G.B.) x 240dot
- Video Format:NTSC / PAL
- Modulation Mode:FM
- Receive Sensitivity:-85dBm (module)
- Built-in Li-Battery Capacity:1100MAH/3.7V
- Charge Time/Work Time:3 hours
- Consumption Current:500MA(MAX)
- Memory:Micro SD Card
- Picture Format:JPG
- Video Format:AVI
- Picture/Video Resolution:640x480
- Frame Rate:30Frame/S
- Operation Temperature:0~+45oC
- Storage Temperature:-20~+60oC
Packing details:
- 1 unit in one carton
- Carton G.W.: 2.7kg
- Carton Measurement: 55 x 20x 6.5cm