NEW Multi-purpose Mountable WIFI Video Borescope with 1m Telescopic Pole
NEW Multi-purpose Mountable WIFI Video Borescope with 1m Telescopic Pole
Model: TV90W
This is an innovative WIFI inspection camera that is equipped with a turntable stick which enables an user to mount the camera on different rods and poles to get extended reach.
It's built-in WIFI hotspot for using on both IOS and Android devices. With the 1m supplied telescopic pole, it can do a lot of jobs that a standard snake borescope can't do. It's perfer for a wide range of applications including locating electrical wiring, building inspections, home inspection, for aviation and vehicle applications and even for search and rescure missions.
Purpose of design:
A standard snake camera's tube is flexible and soft, so sometimes it is hard for an user to inspect a place that there is no good support for the tube, because the tube will be bended and inspection job won't be finished quickly. With the 1m telescopic pole, this camera can do a lot of jobs more conviently and quickly.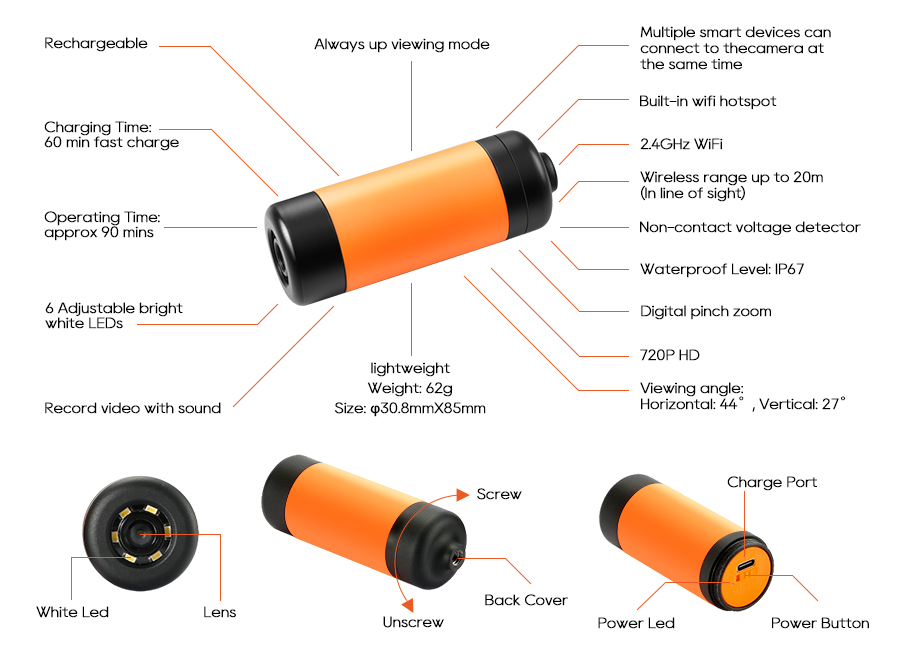 Specifications:
Frequency:2.4GHz WiFi
Sensor: 1/4'' CMOS
Lens: Auto/manualfocus
Resolution: 720p (1280 x 720)
Water Resistant Rating: IP67
Viewing Angle: Horizontal:44°, Vertical:27°
Focal length:4.5mm
Wireless range: up to 20m(in line of sight)
Operating Time: 90~105 minutes (depends on brightness of LEDs)
Charging Time: 60 Minutes
Charge Voltage: DC 5V
Charge Port: USB Type-C
Weight: 62g (camera body)
Size: 85 (L) x 30.8(dia.)mm
Battery Capacity: 650mAh
Battery Type: Lithium Polymer
Non-Contact Voltage Detector Sensor Range: 50V-1000V AC (Approx)
Adjustable bright white LEDs:6 white - control functionality via the app (off, 25%, half, full)
Always up viewing function:When the camera rotates, The image can be set to way up all the time
Record video with sound: Yes
Built in right angle adaptor: 180 degrees
Length of Telescopic Pole: 1m
Operating Temperature: 0 °C to 40 °C
Storage Temperature: -20 °C to 50 °C
Packing list:
1× WIFI Inspection Camera
1x Type C Charging Cable
1x Iron Hook
1x Flexible Gooseneck
1x Adapter
1× 1M Telescopic Pole
1× Hexagon Wrench
1× Waterproof Ring for Back Cap
1x Carrying Case
1x Operation Manual