38mm New Model Sewer Drain Pipe Inspection Camera System with 40m/130ft ~ 60m/200ft Cable
3399F/FB 38mm New Model Sewer Drain Pipe Inspection Camera System with 40m/130ft ~ 60m/200ft Cable
(Please click 'Download' for downloading the PDF brochure & English Manual of this camera)
This is a Drain/Pipe Inspection Camera that comes with self-leveling feature 38mm camera head, a removeable 7inch LCD monitor with DVR, a 40-60m fiberglass push cable reel, all parts (including camera head, monitor, cable etc) are mounted on a robust stainless steel wheel.
This system is widely used in inspections of Sewer, central air conditioning, chimney, plumbing, building, cable pipe and pipes ventilation systems and other places.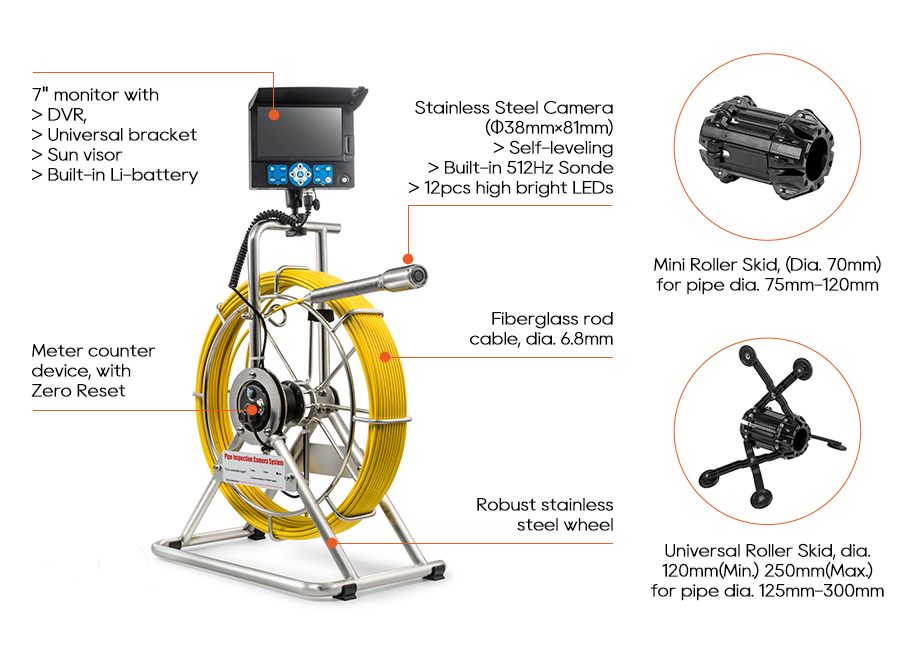 Key Features:
- 1/3" CMOS camera, 120°wide vision angle, 752H * 582V pixels
- Camera Size Φ38mm×81mm(main body)
- Two roller skids, mini one at dia.72mm, another universal skid at dia.115-250mm
- Sapphire glass lens cover, 12 white LEDs
- Diameter of camera:38mm, Focus Distance 12cm (approx)
- Water proof level, 20m underwater (camera fix on cable)
- Push cable dia. 6.8mm
- 7" LCD color monitor
- Support SD Card slot to store still pictures or videos
- One push record button
- LED brightness control buttons
- Video image rotate button
- With microphone for audio recording
- Built-in rechargeable battery lasts up to 5 hours
- On-Screen date and time
- With self-leveling feature
- On-screen meter/ft. distance display
- With keyboard for text input
- 40-60m fiberglass push rod
- Built-in 512hz sonde(optional)
- With universal installation brackets
Optional feature:
- Camera head with built-in 512Hz sonde
- Optional camera skids:
Caster Skid: POM ¢134x83.9. 30mm Wheel
POM Skid: POM ¢78x83.9
Ball Support:POM S¢60x53.5
Lock Sleeve:POM ¢54.6x38
- Keyboard for text input
- Optional cable length: 40M, 50M,60M
Applications:
- For Professional Pipeline, Drain, Sewer, Duct, Chimneys, Machinery and Building Inspection;
- For Maintenance of Plumbing
What's included?
- 1 x 38mm Camera head
- 1 x 40-60m push cable
- 1 x professional 7" monitor with DVR
- 1 x 72 Roller Skid (for pipe diameter 4"-5")
- 1 x 120 universal Skid (for pipe diameter 5 "- 12")
- 1 x battery pack
- 1 x remote control
- 1 x screw driver
- 1 x power adapter
- 1 x car charger
- 1 x universal installation brackets
Packing details:
- 1 unit in one carton
- Carton G.W.: 13kg-16kg
- Carton Measurement: 60 x 60 x 40cm
Specifications:
Camera Head
Camera Size: Φ38mm×81mm(main body)
Camera Total Length: 318mm
Sensor: 1/3" CMOS, 480 TV-Line
Pixel: 752H * 582V
View Angle: 120°
Transmitter: 512hz built-in(selectable)
Self leveling: Built-in
Focus Distance: 12cm (approx)
Depth-of-Field: 120cm(approx)
Front Lens: Sapphire glass
Water-Proof: 20m Under Water(Camera fix on Cable)
Shell Material: #304 stainless steel
Lighting: Built-in 12×LED(White)
Operating Temperature: -10~50℃/+14~+122℉
Storage Temperature: -20~60℃/+4~+140℉
Cable Wheel
40-60M fiberglass push rod cable with on-screen distance counter
Dia. of push cable: 6.8mm
LCD Monitor
Screen: 7-inch 16:9 Super bright HD color LCD screen
Resolution: 800x480 RGB
Mirror and Flip: support image mirror, and flip
Video Resolution: 720*576 25fps Max.
Video Encoding: H.264
Photograph: 720*480/720*576
Audio Recording: local sound record
Output: TV and Audio output
External memory: support SD memory card up to 32GB
Data output: USB 2.0 to PC
LED Driver: Built-in dimmer
Play back: Video,Photo and Audio
On-screen date and time
On-screen meter/ft. distance display
Battery Capacity: 7.4V 4400mAh Li-ion Battery
Power Supply: DC 12V input
Life/Charge time: 5/8 hours
Language: English, German, French, Spanish, Italian, Chinese, Japanese, Russian, Portuguses