Flexible Drain/Pipe Inspection Camera System with 20m/66ft ~ 60m/200ft cable
This is a professional video inspection camera designed for inspection of sewer, pipe, air ducts, underground cable pipes, etc.. Equipped with a 1080P AHD 18mm camera head, 20-60m fiberglass cable and 7'' or 10'' LCD monitor with SD card recording capabilities, it's a great choice for pipe DN 22MM - 100MM.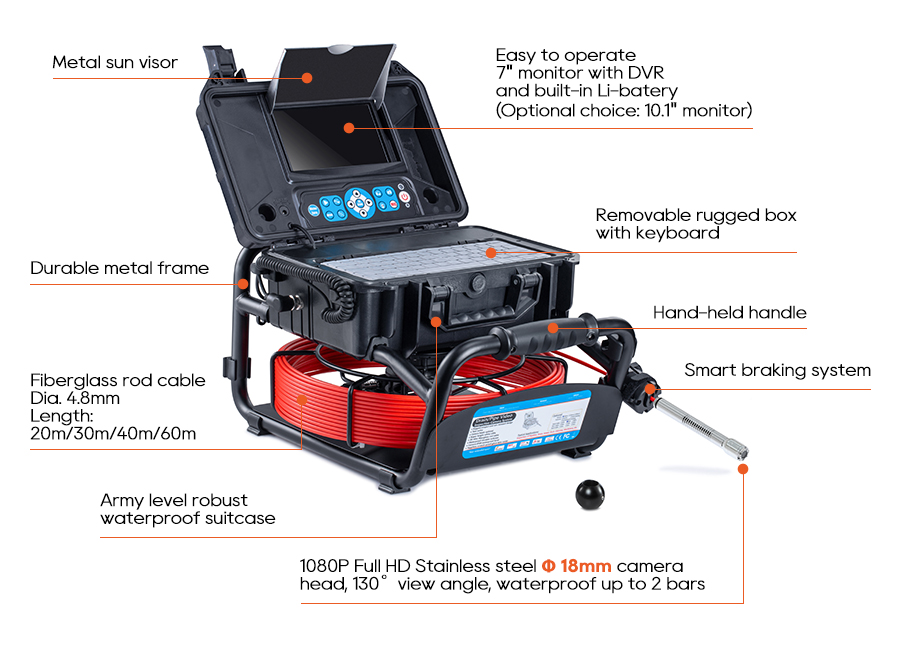 Key Features:
>1/3 inch CMOS, 130° wide vision angle
>Camera Size Φ18mm×135mm( Main body 18*29mm)
>Sapphire glass lens cover, 9pcs high light white LEDs
>Diameter of camera: 18 mm 1080P Full HD
>Water proof level, 20m underwater (camera fix on cable)
>7" or 10'' LCD color monitor, with image rotate button
>SD Card slot to store still pictures or videos
>One push record button
>LED brightness control buttons
>With microphone for local audio recording
>Rechargeable battery lasts up to 6 hours
>On-Screen date and time
>20, 30,40m or 60m fiberglass φ4.8mm push rod
>The cable reel is out of the box, easy to clean and won't cause dirty in the box.
>Ability to go through 90°bends in Φ32mm pipes
>With smart braking system
>With on-screen distance counter
>With Keyboard for text input (English)
>Whole system waterproof (box closed)
Optional Features:
Built-in 512hz sonde
10.1" LCD screen
SPECIFICATION:
Camera Head
Camera Size: Φ18mm×29mm
Camera Total Length: 135mm
Sensor: 1/3" CMOS
Resolution: AHD 1920*1080
View Angle: 130°
Focus Distance: 6cm (approx)
Depth-of-Field: 10cm(approx)
Front Lens: Sapphire glass
Water-Proof: 20m Under Water(Camera fix on Cable)
Shell Material: #304 stainless steel
Lighting: Built-in 9×LED(White)
Operating Temperature: -10~50℃/+14~+122℉
Storage Temperature: -20~60℃/+4~+140℉
Cable Wheel
20/30/40/60M fiberglass rod cable
Dia. of push cable: 4.8mm
Material of cable: Fiberglass covered by PP
LCD Monitor
Screen: 7-inch or 10-inch 16:9 Super bright HD color LCD screen
Resolution: 1024x600 pixels
Mirror and Flip: support image mirror, and flip
Video Resolution: AHD 1080P / CVBS D1
Video Encoding: H.264
Audio Recording: local sound record
Output: TV and Audio output
On-screen date and time
On-screen meter/ft. distance display(optional)
External memory: support SD memory card up to 64GB
Data output: USB 2.0 to PC
Language: Simplified Chinese, English, Traditional Chinese, Japanese, Korean, Russian, German, French, Italian, Spanish, Portuguese, Thai, Finnish, Swedish
Battery Supply
Power Supply: DC 12V input
Battery Capacity: 7.2V 6400mAh Li-on Battery
Power Output: 6-12V DC, USB 5V
Work/Charge time: 6/8 hours
WHAT'S INCLUDED:
1 x 18mm Camera head
1 x 20/30/40/60m cable wheel
1 x ball guide(dia.28mm)
1 x remote control
1 x screw driver
1 x power adapter
1 x car charger
1 x connection cable
1 x Screws and camera head waterproof seal
1 x waterproof control box with monitor mounted