5.8mm 720P HD Articulating Borescope with 5" Color TFT LCD Monitor
2-Way 5.8mm 720P HD Articulating Borescope with 5" Color TFT LCD Monitor
This a 5" HD full color 2-way 5.8mm articulating video borescope allows you to view and inspect hard to reach area. It has 5.8mm lens diameter with 4 adjustable LED lights for dark area inspection. Equipped with IP67 waterproof camera with 1m flexible tube that extends the area of inspection.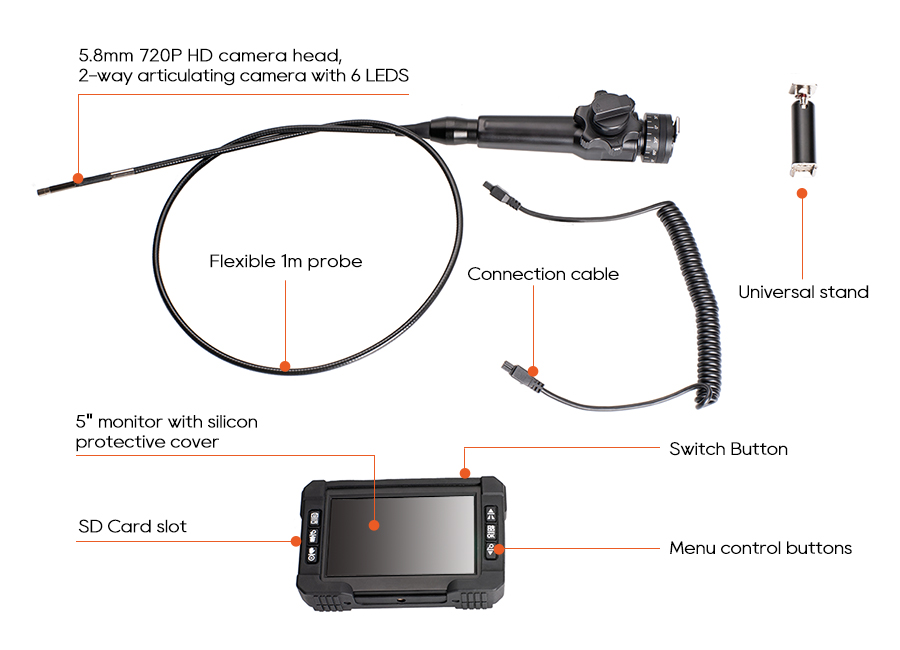 Features:
> 5.8mm color camera head
> resolution: 920,000 pixels
> articulation: 2-way,300 degrees
> 4 white leds for night vision
> flexible tube, 1m lengh
> 5" monitor with SD card recording/still image capture
> Rechargeable li-battery in both camera handle and monitor
> Water proof level: IP67
> With Aluminium tool case
Applications:
This Inspection Camera can work on different fields such as in auto maintenance and production, engine inspection, plane repair, emergency rescue, army exploration, pipeline detection, sewerage maintenance, and in any deep area that can't be reach by human hands
What's included?
- 1 x camera probe
- 1 x monitor
- 1 x USB cable
- 1 x video out cable
- 1 x power adapter for monitor
- 1 x power adapter for camera
- 1 x manual
- 1 x Aluminum Case
Specifications:
> 5.8mm color camera head
> resolution: 920,000 pixels
> Articulation: 2-way,300 degrees
> White leds for night vision
> Flexible tube, 1m lengh
> 5" monitor with SD card recording/still image capture. With silicon protective cover
> Rechargeable li-battery
> Water proof level: IP67
> With Aluminium tool case
Packing details:
- 1 unit in one carton
- Carton G.W.: 1.8kg